Richard Hough
Year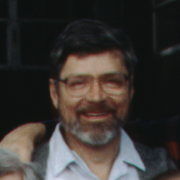 Contact Information
---
Biography
Education:
A.B. English, Syracuse University, 1952
M.A. Geography, Syracuse University, 1957
Ph.D. Geography, University of Wisconsin, 1963
Appointments at SFSU:
Assistant Professor of Geography 1962-1968
Associate Professor of Geography 1968-1972
Professor of Geography 1972-94?
Professional Organization Service
CGS Board member and President
APCG
AAG

co-author of the HGSP unit 
Co-chair of Local Arrangements Committee, SF 1970.
Member of Local Arrangements Committee, LA

Presented papers at quadrennial congresses in Tokyo, Washington, D C, and at a Rural Development conference in Jerusalem.
Teaching Specialties:
Geography of Japan
Cultural Geography
Geography of Ethnic Communities
Internships
Field Trips
Water for the Cities:  SF & LA -- trans-Sierra to Inyo County
Basic San Francisco (AAG 1970 and 1994)
Fog and Fault (AAG 1970 and 1994)
SF at Night
California Delta
Central Valley: Fresno to SF
Japan and SE Asia (ran once through Extension)