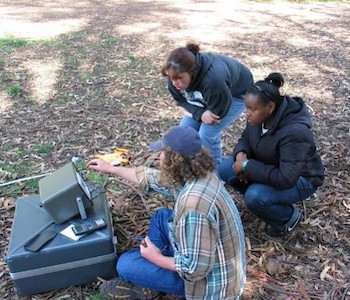 The Master of Science in Geosciences provides an advanced degree that prepares students to work in private industry or government agencies, teach in community colleges or high schools, or continue postgraduate studies leading to a doctoral degree at another university. The graduate program also gives professional geoscientists an opportunity to update and upgrade their job skills.
The School of the Environment's faculty has expertise in geology, hydrology, oceanography, and paleoclimatology–fields critical to understanding many environmental problems, such as air and water contamination, active faulting, coastal erosion and global warming. There are no formal concentrations within the M.S. program, but most students choose to emphasize research that is aligned with the faculty area of expertise. We encourage students to work on interdisciplinary projects, particularly in the San Francisco Bay Area. We also encourage students to develop linkages with other schools and departments in the university, and with agencies and firms in the local region.
All students take courses in their respective areas of emphasis plus a common core of three courses: ERTH 700, a seminar that acquaints students with the M.S. program and research in the department; and ERTH 701 and 702, research and quantitative methods courses that prepare students for thesis research. M.S. thesis projects are expected to be grounded rigorously in the sciences and will often involve extensive laboratory, field and/or computer work.
We strongly recommend that students plan a course of study before beginning the M.S. program, in consultation with a faculty advisor in their area of research interest and the graduate coordinator.
Geoscientists contribute the basic information to society for analyzing problems and establishing policy for resource management, environmental protection and hazard assessment. Dwindling energy, mineral, and water resources, and increasing environmental concern about global issues such as climate change and sea level rise, present challenges that create a demand for geoscientific expertise.
Graduates of the program are currently working in a wide range of fields in the earth sciences. For the next decade, geologists will find the greatest opportunities in the broad areas of environmental and engineering geology; for example, surface and groundwater hydrology studies aimed at characterizing and remediating toxic sites, assessing earthquake and landslide hazards, developing restoration plans for river and coastal environments, and evaluating sites for urban planning or construction. Recent job trends suggest that the strongest candidates, regardless of the area of specialization, will have a master's degree, several years of experience, and an interdisciplinary background with strong chemistry, physics, mathematics, and computer skills. Earth scientists in the San Francisco Bay Area are employed by a very large number of government agencies and environmental consulting firms.
The M.S. in Geosciences is excellent preparation for a community college or high school teaching career, or for entry into a doctoral program leading to a career in university teaching and/or research. The increased emphasis on science in high schools and the California mandate for earth science education in the elementary science curriculum provide many opportunities for teachers trained in the geosciences. Graduate students have opportunities to gain teaching skills through employment as a Graduate Teaching Assistant (GTA) or through course offerings in the SF–SEPAL center.