Biogeographical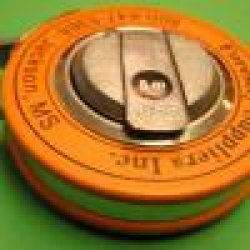 DBH Tapes
Diameter at Breast Height (DBH) tape. Tape 2 is 10m, the rest are 8m.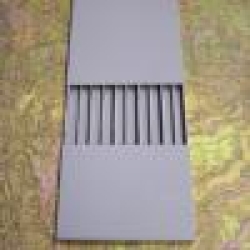 Core Sample Holder
Core sample holder that can be used with Increment Borers.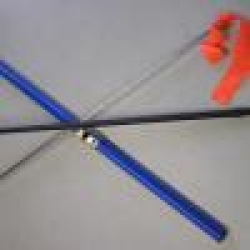 Increment Borers
Increment borers for sampling softwood trees.  Requires training.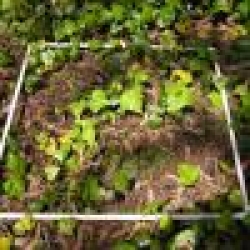 Quadrat Frames
PVC frames, various sizes.
GPS & Navigational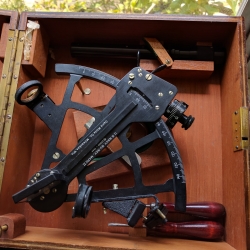 Sextant
U.S. Navy Bureau of Navigation Mark II Sextant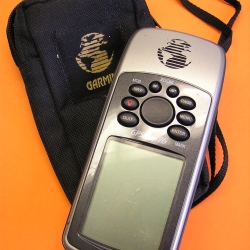 Garmin GPS 76
Garmin handheld GPS.  3-5 m accuracy.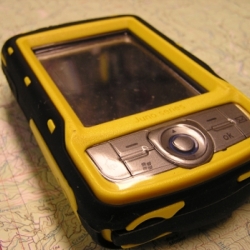 Trimble Juno GPS
Trimble Juno SB Level 1 (code) GPS Receiver 3-5m accuracy with SBAS differential correction, uses Terrasync.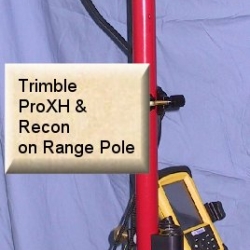 Trimble ProXH GPS
Submeter GPS, separate GPS and Recon datalogger.
Meteorological/Atmospheric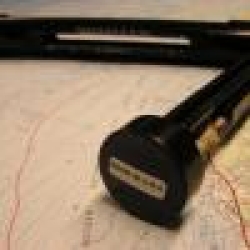 Sling Psychrometer
Used to measure relative humidity.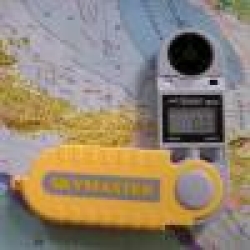 Skymaster
Similar to the Brunton Sherpa, this device can measure windspeed, temperature, relative humidity and barometric pressure.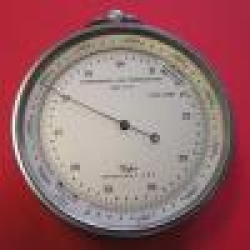 Barometer
Handheld barometer with an analog face.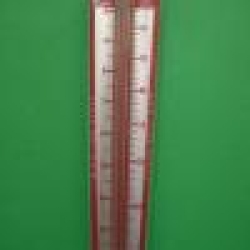 Dwyer Wind Meter
Wind meter for collecting wind speeds from 2-66 mph.
Soil, Sediment, Rock Sampling & Analysis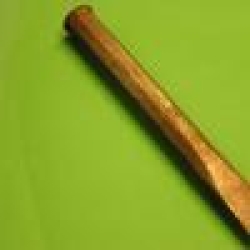 Chisel
7.5 in chisel for collecting samples.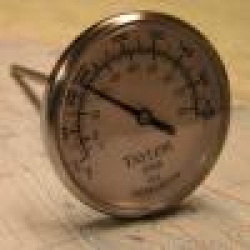 Analog Soil Thermometer
Analog soil thermometer with readings in both F and C.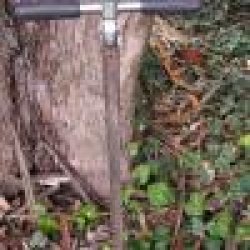 Eijkelkamp Gouge Auger
This auger comes with a dead-blow mallet and a bent spatula.  It can be used for hard soils.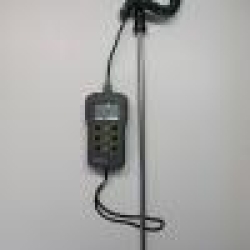 Hanna Thermocouple w/ Probe
Hanna thermocouple with probe can measure temperatures from -50 to 250 C.  The probe is 10mm in width and 500mm in length and can tackle the toughest soil.   Thermocouple comes in a hard case.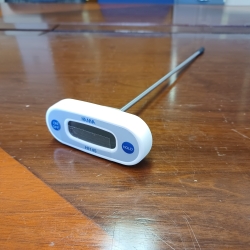 Hanna HI145 Digital Thermometer
The HI145 is a T-shaped digital thermometer with stainless steel penetration probe developed for HACCP programs. It offers an ergonomic design and delivers high accuracy measurements (0.1°C) over a wide temperature range (-50.0 to 220°C).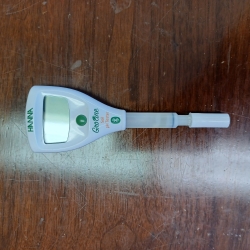 HALO2 GroLine Wireless pH Tester
The HALO2 GroLine Wireless pH Tester is designed to bring simplicity to pH testing of soil for environmental and agricultural purposes.
Open-source Bluetooth allows easy integration into current data logging systems
IP65 water resistant protection
Specialized electrode for spot checking the pH of soil and soil slurries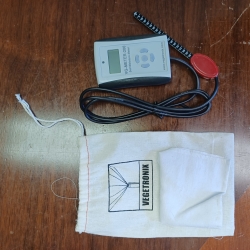 Vegetronix VG-Meter-200
This meter comes with the highly accurate VH400 soil moisture sensors with a 1.2 meter (4 ft) cable. The VH400 probe is slender so it will not disrupt the root system of your plants. It's also rugged, waterproof and will never corrode. Because it uses transmission line techniques to measure moisture, the VH400 probe is insensitive to soil salinity. Soil moisture results are displayed as a simple percentage (VWC) and ranges from 0 to 100%.
The meter can display ambient temperature either in Celsius or Fahrenheit. The temperature is measured at the hand held unit. The VG-METER-200 displays light levels in Lux.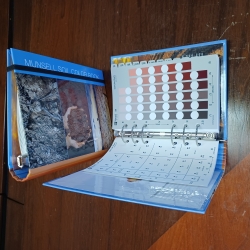 Munsell Soil Color Book
Included are a 10Y and 5GY soil chart for glauconite soils, a 5R soil chart for Australia and Southeast Asia, and a 7.5R soil chart for tropical and semi-tropical soils. A Munsell high value, low chroma "white" page shows half steps from 8.5 to 9.5 in value with chromas of 1 and 2 for N, 7.5YR, 10YR, and 2.5Y. Use this page to describe carbonate, silica, gypsum, and soluble salt precipitates and evaporites common to arid and semi-arid environments as well as very light-colored parent materials such as diatomaceous earth and volcanic ash.
Hydrology & Water Quality Instruments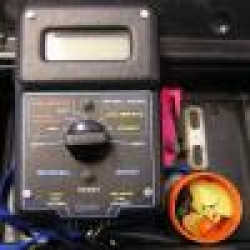 Swoffer Flow Meter
For use with Swoffer Rod for measuring depth and positioning propellor at optimal depth for velocity average with depth.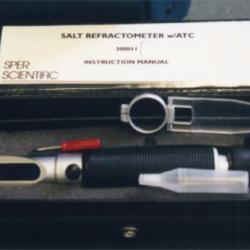 Salinity Refractometer
refractometer for salinity measurement.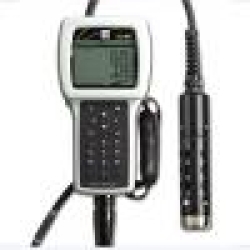 YSI Multiparameter
Our kit comes with a combination pH/ORP probe, DO membrane kit, conductivity/temperature probe, a 4 meter cable, and a PC interface cable.  There is also buffer solution available for calibration.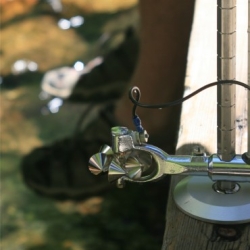 USGS Pygmy Current Meter
For use with USGS Flow Rod for measuring depth and positioning the meter at the right depth of flow.  Used with either headphones or digitizer.
Handheld Surveying Instruments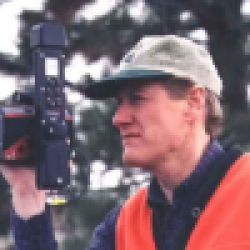 Laser Technologies Impulse 200 Laser Rangefinder
Laser Technologies Impulse 200 Laser Rangefinder, with compass module.  Best used on a range pole for steady readings.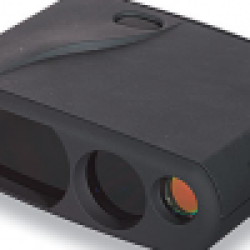 Opti-Logic Laser Rangefinder
Easy to use laser rangefinder, accurate to 1 m.  Reads distance & vertical angle, with built-in settings for horizontal and vertical distance, and tree height.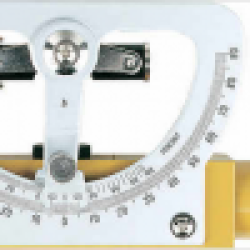 Abney Level
Sokkia Abney Level with 5x Magnification.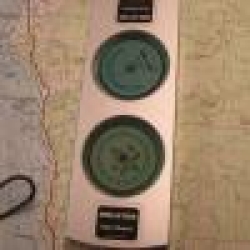 Brunton Survey Master Duo
Similar to the Suunto Tandem, the Brunton Master Duo combines a clinometer and a compass. 
Surveying Tapes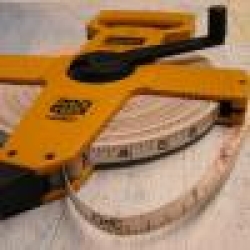 60 m (200 ft) Non-Metallic Tape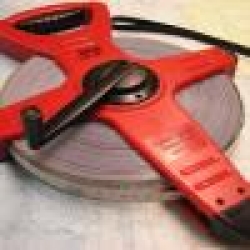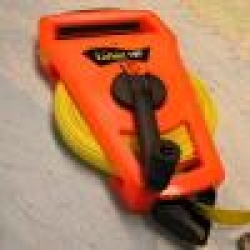 100 ft Non-Metallic, Lufkin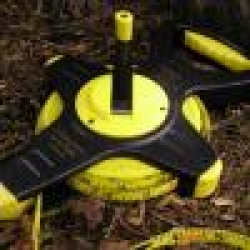 Surveying Instruments (High Accuracy)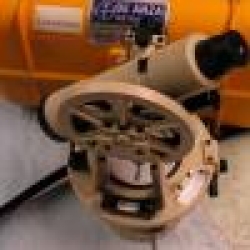 4.5 inch Transit, David White
For the mechanically-minded, non-powered types:  not electronic -- no batteries -- completely opto-mechanical.  Takes patience and practice, but you can get accuracy to minutes of horizontal and vertical angle.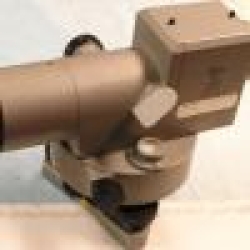 Auto Level
Telescopic (optical) level.  Use tape or stadia readings for distance.  
Used with stadia rod in meters or feet.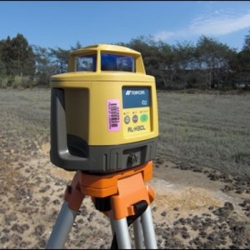 Laser Level
Laser level. Used with laser sensor (in laser level box) mounted on suitable rod, such as the Direct Reading Laser Leveling Rod.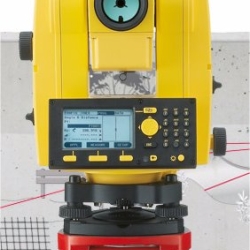 Leica Total Station (Builder 503)
The Leica Builder 503 Total Station is a relatively easy-to-use instrument, but has exceptional accuracy: 3 seconds of angle horizontally and vertically.  See the SFSU Guide for a shortened version of the manual focused on our uses, which are going to be for capture of survey points, referred to as an "As-Built" survey (the instrument also does "Layout" for construction.) 
Uncrewed Aircraft Systems (UAS)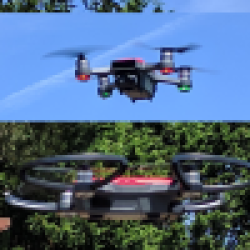 DJI Spark
The 300-g DJI Spark can't be programmed to fly autonomously, but it has a decent camera that can be used to map using GCPs and manual flying even with no GPS.  The procedure uses Free-Flight mode in Pix4Dcapture, which triggers the camera at specified spacing.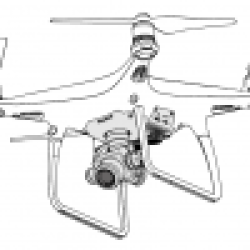 DJI Phantom 4 Advanced
The DJI Phantom 4 is a popular, easy-to-fly UAS that  integrates a decent camera (1" CMOS 20 Mpixel 100-12800 ISO, FOV 84° 8.8 mm (24 equiv) f/2.8-f/11, autofocus) on a gimbal.  One advantage over the Phantom 3 is locking propellers.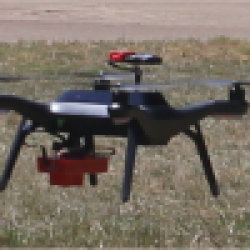 3DR Solo (with RedEdge)
Configured as a platform for the MicaSense RedEdge 5-band sensor, shown here with downwelling light sensor and GPS mounted above.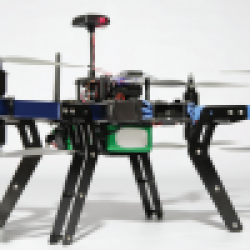 3DR RTF X8 Octocopter
Payload capacity:  800 g.
Research or educational use requires a FAA-certified remote pilot on the field team and project approval by the SFSU UAS Review Board.
Lab and Field Equipment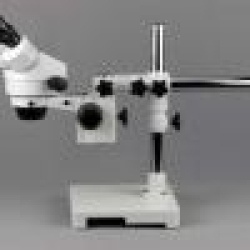 7x-45x Stereo Microscope
Binocular 7X-45X zoom stereo microscope on a single-arm boom stand, with 30mm widefield, 10X eyepieces, single-arm boom stand, 45 degree inclined binocular oculars, 6.5:1 magnifying zoom range and 4" (100mm) working distance.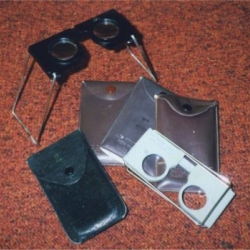 Abrams Stereoscope
To be used for viewing a stereoscopic pair of separate images.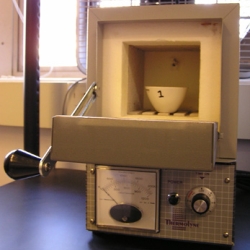 Furnace
For Loss-On-Ignition studies of organic matter content of soil samples.  In this lab, use a relatively low-temperature (360 to 375°C).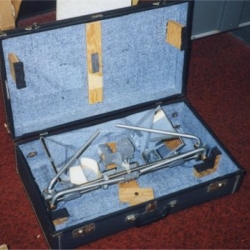 Mirror Stereoscope
Mirror stereoscope for measuring and mapping features on stereo pairs of aerial photography.
Miscellaneous Field Equipment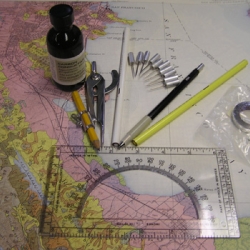 Field Plotter Kit
To be used with: Alidade, Plane Table, and Plane Table Tripod.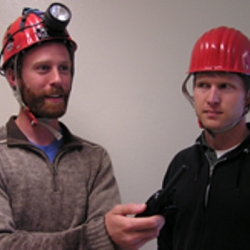 Caving Helmets
Petzl caving helmets.  Some are available with a helmet lamp.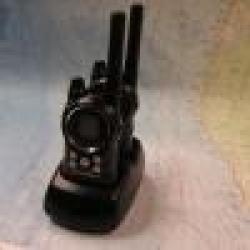 Handheld Radios
 Motorola handheld radios.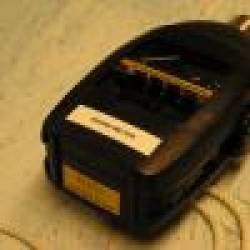 Sound Meter
Used to measure noise pollution. 
Tripods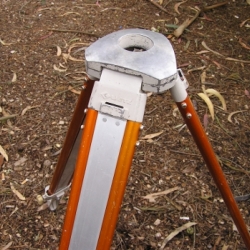 Autolevel Tripod
Convex top autolevel tripod, for quick setup of optical autolevels.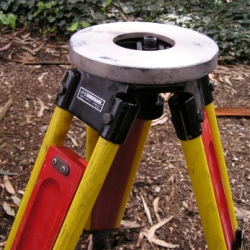 K&E Yellow and Red Flat Top
Wooden tripod (a bit more stable but heavier than aluminum tripod).  Used with total station, digital level, laser level.
Plane Table Tripod
To be used with the plane table.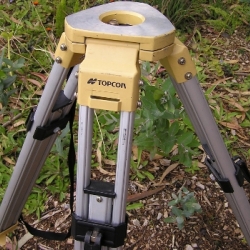 Topcon Yellow Flat Top
Aluminum.  Used with total station, digital level, laser level.  
Rods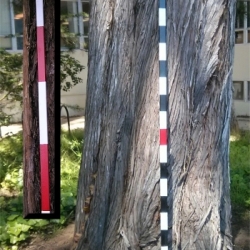 Homemade Range Poles
Available in feet (left) or meters (right).  Used with hand levels.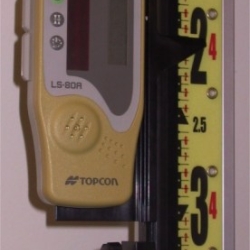 Laser Level Sensor
For use with Laser Level, and stored in its box.  Mounted with bracket (also in laser level box) on a suitable rod such as the direct-reading laser-level rod.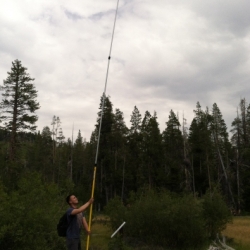 Mr. Long Arm Painter Pole
Extends to 7 m, to be used for an elevated platform for photography.  Includes camera mount.  Only appropriate for light-weight cameras at its full extent.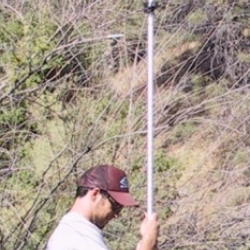 Prism Rod (Seco)
Extends to 4.65 m.  Marked in meters for water depth reading, Used with Prisms.
Cameras & Sensors and Vehicles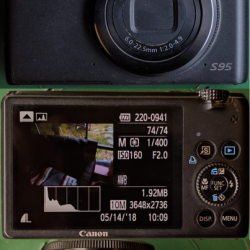 Canon S95
The Canon S95 is a versatile but inexpensive camera with a global shutter, so it works well with on a UAV platform.  Run the CHDK intervalometer to take pictures at regular intervals.  We have three of these, one unaltered, the other two with the IR blocking filter removed, one with a filter mount, the other with an NGB filter installed internally.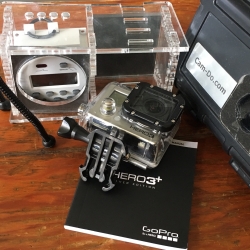 GoPro
GoPro Hero 3+ Silver Edition.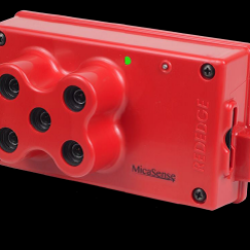 MicaSense RedEdge Multispectral Camera
The MicaSense RedEdge 5-band sensor was designed primarily for precision agriculture applications, where farmers can look for moisture and other stress on their fields, but also works well for vegetation mapping.  It captures narrow bands of blue (centered on 475 nm), green (560 nm), red (668 nm), near infrared (NIR, 840 nm), and red edge (717 nm), allowing for accurate detection of vegetation health and discernment of species based on their spectral signatures.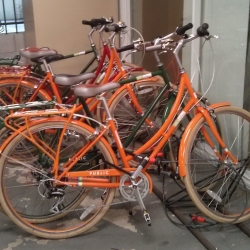 Bicycles
Available for checkout.  See Map Librarian.