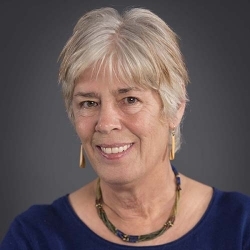 Glenn Fieldman
Associate Professor
International political economy of the environment; environment and development  (trade agreements, World Bank/IMF), sustainable alternative institutions; climate policy
Phone: (415) 405-2431
Email: glenn@sfsu.edu
Location: HSS 211
Biography
Dr. Fieldman received her Ph.D. from the Graduate School of International Studies at the University of Denver in 1990, where she held the Korbel Fellowship.  She taught political science at Metropolitan State College and the University of Colorado at Denver before moving to California in 1986.  Beginning as a lecturer at SF State in 1990, she taught political science, international relations, and environmental studies.  She was a member of the student-faculty committee that created the Environmental Studies program, and was appointed to ENVS on the tenure track in 2007.  She brings global perspectives on environmental justice to her courses,  which include Climate Policy and Politics and Global Environmental Crisis.   During her first semester as an ENVS faculty member, she co-coordinated the Focus the Nation climate teach-in at SF State, an effort that involved dozens of SF State faculty, outside speakers including Van Jones, attracted local media coverage, and educated thousands of attendees. Active in politics (and protest) since her college days, she currently  chairs the Open Space and Ecology Committee, which educates the public and recommends policy (including the city's Climate Action Plan)  to the Brisbane City Council.  She is also a member of the steering committee of Fossil Free California, which advocates for institutional divestment from fossil fuels.
Research Interests
How the "financialization" of the U.S. and global economies affects corporate governance and regulations
Publications
Financialisation and ecological modernisation.  Environmental Politics 23(2), 2014.   Neoliberalism, the production of vulnerability and the hobbled state.  Climate and Development 3(2), 2011.