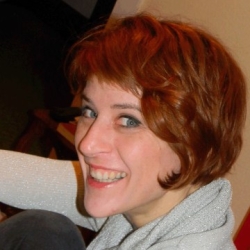 Courtney Donovan
Associate Professor
Politics of health and health care, health humanities, health disparities, visual methodologies, graphic narratives and comics, multimedia art
Phone: (415) 405-0921
Email: cdonovan@sfsu.edu
Location: HSS 126
Office Hours:
Tue:
11:00 a.m. - 12:30 p.m.
Zoom
Thu:
11:00 a.m. - 12:30 p.m.
Zoom
Ph.D., University of Washington, 2008
Courses Taught
World Regions and Interrelations
Geographies of Health and Health Care
Geographic Perspectives on Gender
Geography of Ethnic Communities
Field Methods in Human Geography
Seminar in Cultural Geography: Human & Social Geography
Biography
Courtney Donovan is an Associate Professor of Geography at San Francisco State University. Her research sits at the intersection of health geography, health humanities, and the social determinants of health. She explores the ways in which the arts and the humanities convey diverse geographic aspects of health and health care, including embodiment, place, and space. In Spring 2019, Dr. Donovan led a pilot mental health and arts initiative at San Francisco State. The initiative focused on opening dialogue on student mental health through bringing local artists into classes across the university, displaying student creative work on campus and at the Yerba Buena Centerv for the Arts in San Francisco. She is building on this work on student mental health through initiatives with the AAG and also with the SFSU Basic Needs Initiative. Dr. Donovan is the founder and director of StoryBridge, a multimedia web platform and community-based health humanities project that addresses health disparities in the Bay Area. StoryBridge cultivates an online place to promote discussions on health disparities through creative submissions by community members and also addresses health disparities through the StoryBridge podcast.  Dr. Donovan is the co-author (with Ebru Ustundag) of "Graphic Narratives, Trauma, and Social Justice." She is also co-editor of a special journal issue in GeoHumanities (with Sarah de Leew and Nicole Schafenacker) "Geographies of Medical-Health Humanities: A Cross-Disciplinary Discussion". Dr. Donovan is also co-editor (with Pamela Moss) of the edited volume "Writing Intimacy Into Feminist Geography". Dr. Donovan is also the creator of Profess*Her a project aimed at supporting academic mothers in professional development by creating support networks.