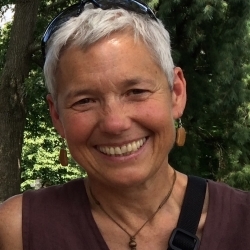 Karen Grove
Professor Emerita
Sedimentation and tectonics, coastal sedimentary environments, Quaternary geology, tectonic geomorphology
Emerita since 2015
Education
B.S. Geology - University of Maryland
Ph.D. Geology - Stanford University
Research and Teaching Area
I have been primarily interested in unraveling the tectonic evolution of an area by studying sediments and geomorphic features. Since 1992, with the assistance of numerous undergraduate and graduate students, I have investigated the Quaternary history of the Point Reyes region, located about an hour north of San Francisco. In the San Andreas fault (SAF) valley we have used stratigraphic studies of estuarine and alluvial sediments, structural analyses and geologic mapping, data from subsurface oil and water wells, and a high-precision gravity survey to reconstruct the paleogeography of the SAF zone and to better understand the evolution of the fault system.
On the Point Reyes Peninsula, located west of the SAF, we have used marine terraces and analyses of geomorphic attributes to evaluate the role of contractional deformation and uplift in the region. We also used seismic data from the offshore zone to connect the on-land deformation with responsible faults, and to clarify the timing of Neogene deposition and deformation (see Brian Stozek's thesis below). We have also investigated the Merced Formation and its subsurface extensive in the southwestern region of San Francisco. We used lithologic logs, electric logs, well cuttings, and outcrop analyses to correlate stratigraphic units in the context of clarifying the role of the Serra (thrust) fault and the continuity of geologic units that act of subsurface aquifers and aquicludes.
As a Professor Emerita, Karen is continuing to work with the Department of Earth & Climate Sciences to organize alumni events and seek funding for graduate students. She continues to do Educational Consulting and Writing that includes external evaluations and reviews and geologic travel writing. She is currently residing in Ashland, Oregon, overlooking the beautiful Rogue Valley. She continues to teach geology as a volunteer for OLLI (Osher Lifelong Learning Institute) that is part of Southern Oregon University (SOU).