Steven R. Pease Award
Department of Geography & Environment, SF STATE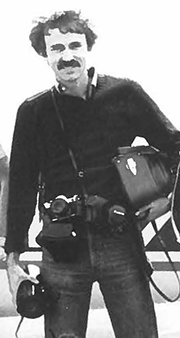 Steven Pease graduated summa cum laude from the University of California at Los Angeles, with a BA. in Geography. A Woodrow Wilson Fellow, he was invited to join Phi Beta Kappa, and he won a Four-Year Prize Fellowship at the University of Wisconsin-Milwaukee, where he enrolled in the fall of 1969, as well as a summer internship in 1971 at the National Center for Atmospheric Research. In addition to pursuing graduate studies, he worked as an announcer and manager for radio station WFMR, Milwaukee and as a substitute broadcast meteorologist for three Milwaukee radio stations. He also performed intermittently as a concert pianist.
After earning his Ph.D. in Geography, Steve came to San Francisco State University where taught courses in climatology, geographic techniques and remote sensing. He served as the department's graduate adviser for five years and supervised numerous M.S. theses. His research focused on the analysis of atmospheric conditions with remote sensing and satellite imagery. After completing a yearlong solar-energy mapping project for the California Energy Commission, he presented the results of that work at the Jet Propulsion Lab at Pasadena, at the Berkeley Lawrence Lab, and in February 1981 at a workshop sponsored by NOAA and the international Solar Energy Society in Washington D.C.
Steve suffered from a fatal allergic reaction to an anti-malaria drug while on sabbatical in southeast Asia in Fall, 1984. His parents and his sister – all geographers themselves -- established the Pease Award to support geographic education at SF State.
The Pease Award is meant to encourage and support the pursuit of a geographic education at SF STATE. This student award is granted annually to a student actively working towards a degree in Geography/GISc. The award amount is between $1000-$2000 and at least one award (to an undergraduate or graduate student) will be granted.
Criteria & Eligibility:
Sophomores/Juniors/Seniors/Graduating Seniors continuing on to graduate school, and graduate students who have completed at least 15 units in Geography at SF STATE.
Undergraduate Geography GPA of 3.5 or higher or graduate GPA of 3.5 or higher.
Enrolled in at least 6 units (undergraduate) or 3 units (graduate; 3 units requirement does not apply for those working on thesis project) in semester receiving award.
Apply online through the Academic Works Scholarship System by the deadline with the following:
Statement of approximately 500 words discussing your choice of Geography/GISc as a field of study. This essay might usefully include some indication of your present activities and future plans.
Current unofficial SF STATE transcript.